If you're looking to trade crypto for the first time, it can be difficult to know where to begin. Most people first enter the crypto market during a bull run and have a significant fear of missing out (FOMO). Often, these new investors will dive straight in and make a purchase without fully understanding the market. This is where a crypto demo account can come in handy. These accounts allow you to trade live markets without risk of losing money.
This guide will cover what a crypto demo trading is and list the best demo trading accounts available in 2023.
Best crypto demo accounts for 2023
What is crypto demo trading?
Crypto demo trading, also called paper trading or simulated trading, is a type of trading where you can buy, sell and trade cryptocurrency using artificial money.
Some crypto exchanges and trading platforms have a free demo account feature allowing their users to experience the crypto market and practice making trades without losing any money. These practice accounts allow you to take risks and experiment with different trading methods.
Reviews of the best cryptocurrency demo trading accounts
There are several platforms that offer demo crypto trading, allowing new investors to practice crypto and Bitcoin trading without any financial risk. This allows them to better understand the market before investing any of their hard-earned money. This guide will cover the best crypto demo trading accounts available to Australians.
1. Swyftx
Swyftx is an Australian crypto exchange founded in 2018. Since launching, it has built a large customer base of 660,000+. Though their trading platform and app is suitable for people of all trading experiences, it is predominantly beginner-focused. It is ranked as the best crypto exchange in Australia by Coinware due to its low fees, great crypto trading tools and features and helpful customer support.
Read: Swyftx review
They have a very intuitive demo trading account that functions almost exactly like their real trading platform. This account allows users to trade cryptocurrencies using artificial money or as they refer to is, 'Mock Currency.'
Once you sign up, you are given $10,000 USD in mock currency to make trades and practice your strategies. You can access all of the trading features that Swyftx has to offer such as:
Trade 320+ cryptocurrencies
Set price alerts
Trade on both the mobile and desktop applications
Track the progress of your virtual portfolio through the dashboard
TradingView charting and other advanced trading tools
How to use the Swyftx demo mode
We found Swyftx's demo mode feature fantastic. It's so simple to use – simply sign up using your name, email address and phone number and then switch on demo mode via the settings button in the right-hand corner. There will be a yellow banner at the top of the page to signify that you are in demo mode. You must ensure that this banner is present before you start trading in demo mode. We have provided images below of what the demo mode looks like on both the Swyftx mobile and desktop applications.
Swyftx is great for beginners looking to learn crypto trading before investing their own money. Once you're ready to start trading for real you can simply switch off demo mode using the toggle in the menu.
Please keep in mind, Swyftx cannot remove or add funds from your original balance. You can, however, reset your balance back to $10,000 USD by contacting their customer support team via live chat.
Trial Swyftx Demo Mode
2. TradingView
TradingView is an advanced charting platform with social-trading capabilities that is used by millions of people across a number of markets including cryptocurrency, stocks, Forex and more. Users can monitor historical prices of assets and perform technical analysis to identify trends and patterns to assist them in predicting future price movements on a number of assets.
Powerful crypto trading indicator
The Market Mapper is a custom trading indicator designed to execute accurate buy and sells signals for profitable crypto trading.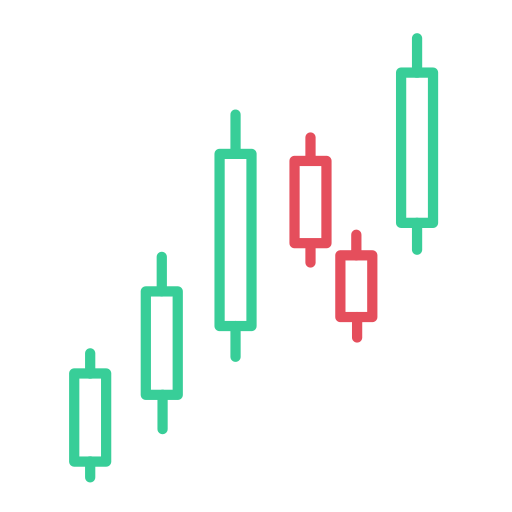 To be clear, TradingView is not an actual trading platform or exchange and therefore you cannot deposit funds to trade crypto for real. They do, however, have 'paper trading' which acts as a trading crypto demo account allowing you to execute simulated trades without risking your real money. This is more suitable for advanced traders looking to take advantage of TradingView's wide range of charting tools.
How to use TradingView 'Paper Trading'
To activate the demo account, you will first need to create a TadingView account. Under the Trading Panel, you can select 'Paper Trading.'
To place a trade, right-click anywhere on the chart, hover over 'Trade' and then click 'Create New Order.'
You can put in your order details on the right-hand side. You'll have the option of placing a market, limit or stop order. Once you have placed an order it will be added to your active positions list under the chart.
3. eToro
Etoro is a global financial brokerage and trading platform allowing users to trade from a range of different markets including cryptocurrency, stocks, ETFs, Forex, commodities and more. Established in 2007, eToro's platform has immensely evolved over the years to the all-inclusive financial platform that it is today.
eToro is registered with the Australian Securities and Investments Commission (ASIC) meaning Australian users can utilise both the demo account and the real-world trading account to trade Bitcoin and other crypto assets.
The eToro demo trading account gives users $100,000 in mock currency to practice crypto trading. Traders can select from 16 cryptocurrencies to buy and sell without having to worry about losing any money. This is great for people looking to analyse markets and conduct technical analysis but are not yet confident enough to invest their own money.
One of eToro's most well-known features is its social trading news feed which acts like a social media platform for traders. Here, you can interact with other traders, post your trading ideas/strategies or mimic the trading activity of others. This community can help you understand how more experienced traders operate. Keep in mind, however, that you shouldn't just base your trades on what others are doing and should always conduct your own research.
It's important to note each trade on the eToro social trading platform will have differing strategies. The great thing about social trading is viewing what several other people are doing using it to form your own trading methodologies. A great place to start to view the 'Popular Investors' who are users who get paid by people who replicate their trades.
How to use the eToro practice account
Using the eToro practice account for crypto trading is extremely easy and requires 3 simple steps to get there:
Access the demo mode portfolio via the menu bar in the top left corner of your dashboard.
You will be credited with $100,000 in virtual funds to practice trading
You can switch between the demo mode and your real portfolio at any time. There are no fees attached to making trades on the demo mode.
4. Plus500
Plus500 is one of the world's top online CFD trading platforms. CFD stands for 'Contract for Difference' which essentially means users are investing in financial products that follow the prices of assets like cryptocurrencies, stocks and commodities. Therefore, if you were to purchase an asset like Bitcoin on Plu500, you're not actually owning the asset itself, but rather investing in its price in the hope that it increases in value. This means you cannot withdraw your crypto to an external wallet.
Plus500 allows users to trade with leverage up to 30x. They have a demo account where you can trade CFDs of a range of assets. Here, you can trade 17 cryptocurrencies using artificial currency.
Most of the other demo accounts listed on this page are targeted and suitable for beginners. However, The Plus500 demo account has more functionality which allows even seasoned traders to practice high-risk trades (i.e. leverage trades).
How to set up Plus500 Demo Mode
You don't have to open a real trading account to use the Plus500 demo account. During the registration process, there will be a window to 'Select Account Mode.' Here, you can select 'Demo Mode.'
Once your demo account is up and running, you will be taken through an online tutorial of the trading platform which includes the basic functionalities of trading like how to place a trade.
You will get an artificial amount of money in your account which can be used to make trades. If the balance of your demo account drops to under $200, your balance will be reset. Watch the video below or more information.
5. Binance
Binance is the biggest crypto exchange in the world by trade volume. It has a feature called 'Mock Trading' which is a crypto demo account for Binance futures trading. Futures is a speculative type of trading that refers to trading derivative contracts at a set future date and future price.
Read: Binance Australia Review
This type of trading is high risk so it's a good idea to practice it without committing any financial resources. You will be given $3,000 in artificial USDT to experiment with. Here you can explore a number of functions such as such as changing leverage, placing stop loss orders and taking profits.
How to use the Binance Futures demo account
Register for a Binance account by providing some simple details such as your full name, email address and phone number.
Click the profile icon in the top right corner and then click 'Mock Trading.'
You will then need to confirm you want to create a Binance Futures testnet account.
Once confirmed, you can start interacting with the Binance futures demo mode.
Sign up to Binance
6. Bitmart
Bitmart is a popular global trading platform with over 2 million customers. It has a number of features including futures trading, staking and crypto lending. Users can use their demo account to build their trading confidence and practice trading strategies.
The simulated trading account has the exact same interface as the real trade account. You can use the in-depth TradingView charts which are integrated with the interface to utilise a range of technical indicators to assist with your trading moves.
7. Phemex
Phemex is a large global crypto trading platform with over 2 million active users and a wide range of trading options and features. Their goal is to 'empower everyone to trade simply and manage risk efficiently.'
They offer a crypto trading demo account which they refer to as 'Crypto Simulation Trading.' Here, you can trade up to 140 cryptocurrencies with zero financial risk, allowing you to analyse trends and experiment your trading strategy.
The Phemex demo offers features such as spot trading and leverage trading up to 100x. Leverage trading, also referred to as margin trading, is quite risky, particularly if you're inexperienced. The Phemex simulated trading feature is a great way to gain valuable experience in this trading method before committing your own money.
How to use the Phemex simulated trading
Go to Phemex.com and under the product drop menu in the navigation click 'Simulated Trading'
Click Register on the top right corner of the page.
Create an account using your email address and phone number
You will be sent a verification code via email which you will be required to enter into the window that pops up
Once verified, you can begin demo trading crypto without risking your own capital
8. Bitsgap
Bitsgap is a trading platform that lets you manage multiple portfolios, access trading bots, and trade multiple digital assets all in one place. It has integrated 25 of the biggest crypto exchanges in the world including Coinbase Pro, Kraken, Bitfiniex and more.
Bitsgap features a demo mode where users can practice trading cryptocurrency using all the features available on the Bitsgap trading platform. It works by replicating an order book from one of the supported exchanges. Through the Bitsgap demo account, you can:
Practice trading with multiple order types such as market orders and limit orders
Utilise the Smart order option to develop safe investment strategies with a number of risk management tools
Utilise the trading bots to trade for you while you are offline
Monitor the profit and loss of your portfolio through the dashboard
Benefits of using a demo account
There are a number of exchanges and platforms that offer cryptocurrency and Bitcoin demo accounts. There are a number of advantages to using this type of account including:
Understand the trading platform and interface
Learn cryptocurrency trading and practice trading strategies
Trade without losing money
Learn the different order types
Fun to do
If you're interested in trading crypto through a demo mode, you can sign up to one of the many platforms listed above. Below, we've listed how to trade crypto through a demo mode with Swyftx.
How to demo trade crypto
Most crypto beginners will dive into crypto without fully understanding what they're investing in. It's absolutely crucial to learn the fundamentals of cryptocurrency and blockchain before committing your financial resources. One of the best ways to learn the markets is to sign up to a demo account to practice crypto trading. Once you have developed your trading skills, you can then start using your actual money to trade crypto, which if done correctly, can pay huge dividends in the long term. 
Follow the below steps to set up a crypto demo mode account using Swyftx as an example:
Create an account with your full name, email address and phone number
Activate demo mode via the navigation in your account
Place an order to buy 1 or multiple cryptocurrencies on the platform
Monitor your profit and loss via your portfolio
When you're ready to trade for real, switch off demo mode
Frequently asked questions
Are crypto demo accounts free?
Yes, all demo accounts listed on this page are free to sign up for and use. The beauty of using a demo mode account is you can learn a valuable new skill without losing any money. 
How do you practice crypto trading? 
Using a demo account is the best way to practice crypto trading as there is no risk of losing your money. 
Is using a Bitcoin demo account a good idea? 
Yes, if you're looking to buy crypto at some stage, it is a good idea to start out by purchasing crypto using simulated trading. This will allow you to eliminate trading on emotions and make more informed trading decisions.